Restaurant: Maison Blunt
Restaurant: Maison Blunt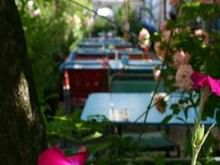 Salam aleikum, would you like a mint tea or some couscous? Situated in the heart of the Kreis 5 district, the Maison Blunt has made a real name for itself and fans of Moroccan cuisine will certainly get their money's worth here. The menu features over 30 different mezzes and a lunch menu of the day. The Tea Room offers creative breakfast variations and a relaxing ambiance for busy Zurich inhabitants. Summer temperatures take guests outdoors onto the cozy garden terrace or to the front area of the restaurant, where they can watch the hustle and bustle on the street over a homemade iced tea or a Moroccan lemonade.
After a night of partying, this Moroccan restaurant is just the thing to get back on your feet again. For brunch, you can tuck into delicious mezze served with Moroccan tea. But I strongly recommend that you reserve a table in advance.
Marc knows Zurich's nightlife like the back of his hand.
Maison Blunt
Gasometerstrasse 5
8005 Zürich